Custom Sustainable Beach Towels Details
Create your own sustainable beach towels online using your own creative idea or the images we support. Enjoy your new stylist towel at the pool,home and beach! They are handmade with high quality. Perfect for your daily life, as well as sport, trip, or camping towel too.
◤No Setup Fees, Free Design Services and Artwork
Highlights

Personalized with pattern and logo

80% polyester and 20% polyamides

Measures 80 x 60 inch

absorbent & quick drying

Double sides are fully all over printed
(CLICK HERE TO SEE OUR ADVANTAGE)
How to custom Sustainable Beach Towels size>>
Recycled Beach Towels with Pocket Types and Sizes of the high quality and digital printing are measured at approximately 80x160 cm, it's slightly larger than your standard towel and the ideal size for wrapping around your body. Beach Towel made in a variety of sizes such as king, queen, kids or two person sizes, and each size serves a 'best' purpose for you.
| Size | Weight |
| --- | --- |
| King Size(90*178cm) | 560grams |
| Queen Size(80*160cm) | 450grams |
| Kids Size(70*140cm) | 345grams |
| Two Person(160*160cm) | 900grams |
| Customized Size | Contact our Customer |
How to custom Sustainable Beach Towels pattern>>
Custom yourself designs or ideas to make your towel distinctive.
Support your logo and artwork design for the products' surface, other design of the edge,and build your logo.

Our skilled graphic design group can help put the finishing touches on your logo or artwork no matter what type of image you send us!

Imprint Method:Full Color Digital Printing.For more methods Please refer to our artwork requirement
Graphic Design:There is no fee for art modifications and we offer FREE over 70 millions vector images to show you a virtual production.if you've interested, Please contact us for get more information.

Sending Artwork:Artwork need to be uploaded during customization. Image Format Requiremnet:EPS, .AI, .CDR

Accepted Images:Any PC compatible file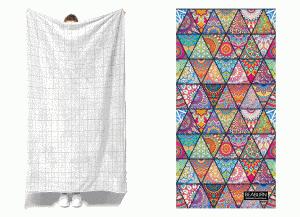 How to custom Sustainable Beach Towels Logo >>
Our customized logo are available for various of custom printed Beach Towel,with a wide range of styles:
FAQs >>
Q:Can I use my own design&logo?

A:Yes you can,and we will show you the virtual production rendring to have a reference.
Q:How long need to take for your production to be produced?

A:48Hours for sample(5~10 days for mass order)
Click more FAQs
Recommended Product
[fusion_social_links icons_boxed="" icons_boxed_radius="" color_type="" icon_colors="" box_colors="" tooltip_placement="" blogger="" deviantart="" discord="" digg="" dribbble="" dropbox="" facebook="https://www.facebook.com/galinkltd" flickr="" forrst="" instagram="https://www.instagram.com/galinkchina/" linkedin="" mixer="" myspace="" paypal="" pinterest="https://www.pinterest.com/galinkltd/" reddit="" rss="" skype="" soundcloud="" spotify="" tumblr="" twitch="" twitter="" vimeo="" vk="" whatsapp="https://wa.link/zx8vo7" xing="" yahoo="" yelp="" youtube="" email="" show_custom="no" alignment="" hide_on_mobile="small-visibility,medium-visibility,large-visibility" class="" id="" /][fusion_text][fusion_text]